Mail Lite® Plus
Close
• Extra protective postal bag made with strong oyster white Kraft outer lined with AirCap® barrier-sealed bubble providing excellent stiffness, puncture resistance and rugged durability.
• Typical cost savings of 20-35% over traditional packaging.
• Self-seal closure saves time in busy packaging departments.
• Application: heavy or fragile objects such as motor spares, electronic parts etc.
Our Mail Lite® mailers now use non PE coated paper FSC® (C110918) certified which can easily be recycled in the paper waste stream.
Mail Lite Tuff®
Close
Tough Polyethylene outer: easy to write on, waterproof, excellent stamp and label adhesion
High puncture and tear resistance, due to an extra-strong polyethylene outer layer
Lightweight: total shipping weight is reduced
Shock-Resistant: The bubble film lining guarantees outstanding protection safeguarding your products from shock and vibration
Water-Resistant: Mail Lite® Tuff Cushioned Mailers protect your products, whatever the weather
Our Mail Lite® mailers now use non PE coated paper FSC® (C110918) certified which can easily be recycled in the paper waste stream.
Padded Mailers
Close
• Improved and "Naturally Better" paper padded mailer providing excellent product protection
• Environmentally friendly – 100% recycled paper, and recyclable
• Convenient tear strip for simple, clean opening
• Smooth inner lining allows easy product insertion and a re-scored flap makes closure more efficient
• Peel and seal closure
Enviroflute
Close
All paper padded bags
Enviroflute is an alternative to the traditional bulky padded mailers, made from FSC paper, and offering the same level of protection via a patented internal design.
Mail Tuff®
Close
Very Resistant:
Manufactured from polyethylene film, Mail Tuff® envelopes are highly resistant to tearing and punching
Product Security:
Mail Tuff® ensures your product arrives safely
• Strong side-welded seams allow for over-stuffing without risk of bursting
• Strong permanent adhesive ensures goods remain safely sealed inside
• Closure system is tamper evident to unauthorised opening
• Opaque Mail Tuff® ensures confidentiality and security
• Ideal way to dispatch non-fragile items, confidential or sensitive reports
Waterproof:
The polyethylene construction makes sure the contents are protected from water and the elements
Mailing Bags
Close
High confidentiality and added security in a waterproof, write-on bag. The opaque design conceals the nature of the content, while the waterproof polythene also protects products from wet and dirt.
Paper Mailing Bags
Close
These environmentally-friendly paper bags are recyclable and have a self-sealing strip that helps ensure products are securely locked inside the bag during transport.
As no extra adhesive is required, the packages look neat and the in-built tear strip makes them easy to open – all this contributes to creating a positive customer experience. The bags are available in different sizes to suit different products and packaging needs.
Paper Document Wallets
Close
These paper document wallets are transparent to enable the document to be read easily for identification purposes, and with a strong self-adhesive backing, these are very quick to apply whilst also ensuring that packing documents don't fall off whilst in transit. This product will also save you time as you don't have to remove them from the cardboard box prior to recycling.
Document Wallets
Close
These labour-saving, self-adhesive, clear-fronted polythene envelopes are designed to attach product documentation, including invoices or customs paperwork to the outside of parcels.
Postal Envelopes
Close
Postal Envelopes are fitted with a peel and seal closure. Items are delivered flat packed and sizes shown are the internal dimensions: Length x Width x Depth. The board envelopes are gusseted to expand from 0-30 mm.
Postal Wraps
Close
Wraps fit tightly around flat items and require no additional wrapping or packaging.
No packing tape is required for assembly but taping your postal packs before mailing gives added security.
Postal Tubes
Close
No-crush cover for plans and posters.
Macfarlane's postal tubes provide excellent cover for storing and shipping plans, prints and posters.
All of our postal tubes are supplied with snug-fitting, white plastic end caps, designed to secure the contents in transit without creasing or crushing.
The diameter of the tube is measured across the internal wall, for accurate fitting
eCommerce Crash-Lock
Close
Our eCommerce crash-lock boxes are quick to erect and fast to pack. The smart base pops open for easy assembly, eliminating the need for tape. The boxes are great for a wide range of products including beauty items, homeware and gifts. The boxes feature an easy-to-open tear strip for a better customer experience and self-seal strip for faster packing. These sturdy, white eCommerce boxes come in three different sizes
eCommerce Box
Close
Our wide range of eCommerce boxes are great for garments and accessories. Boxes are quick to assemble and come in three sizes offering excellent presentation of your items. The boxes feature a self-seal strip to eliminate the need for tape and improve speed of packing. When the boxes arrive on your customers' doorstep they are easy to open as they feature a handy tear strip.
eCommerce Transit Box
Close
Our eCommerce transit box comes with a crash lock base which are quick to erect and fast to pack. The transit box is strong and sturdy and has folded flaps for easy sealing and increased security. Great for large homeware items, mixed clothing and medium food hampers.
Korrvu® Insert
Close
Reduces the need for additional void filling or wrapping.
Korrvu® is a dynamic packaging product that uses a strong, highly-resilient low-slip film to surround your products, protecting them from shock and vibration by ensuring your product holds centre place inside the box.
Beautiful presentation and high protection.
Great for beauty products and electronic items
Unlined Postal boxes
Close
Sturdy postal boxes provide secure packaging in transit for small to larger and harder to wrap items.
The special tuck-in locking flap facilitates closure and sealing, with a printed security label for each box.
Postal boxes
Close
A range of mailing boxes that fall within the Royal Mail Small Parcel guidelines, these postal boxes come flat packed for easy assembly.
Wine Bottle Boxes
Close
Strong, durable bottle boxes are suitable for holding either 6 or 12 wine bottles and can be used for shipping and storage.
A simple, pop up divider insert makes these boxes quick & easy to construct use.
Flexi-Hex
Close
Flexi-Hex® is plastic free, biodegradable concertina style honeycomb protector ideal for bottle protection.
The product is a great alternative to polystyrene bottle packs. Flexi-Hex® is available for retail and gifting or as an eCommerce pack for shipping.
They arrive flat packed and are easy to assemble, offering storage savings. The product provides high compression resistance and can be printed.
Airsac Wine and Beer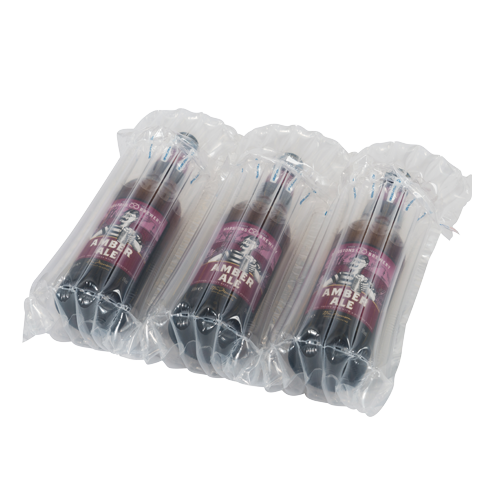 Close
Airsac wine and beer is designed to help protect your alcoholic beverages from being damaged. Airsac moulds itself into your products to provide protection.